We are a nation of pet lovers; we just can't get enough of our furry friends! Which is why here at Created by Magic we know how important it is to create a beautiful life-like portraits of pets. From dogs to rabbits, we just can't stop sharing photos of our beloved pets. If you are looking for a special gift for a pet owner, you should consider one of our personalised pet illustrations. These are a charming present a pet lover will adore.
They will treasure the gift forever and they will love the keepsake of their beloved pet. It's also perfect for a pet owner who has lost a special furry friend. The illustration will help them to celebrate the pet's memory and is a great keepsake. Here is everything you need to know about our personalised pet portrait print.
What pet can I have as an illustration?
We can create pet portraits of all types of pets and exotic animals that will make the perfect present for your friend or family member. We just need a photograph of the trusted furry (feathery or scaly friend); you can even have multiple pets in one portrait as long as they are are all in the image provided. We can also cover horses, rabbits, llamas and any other type of pet your friend or family member has.
What background can I have?
You can choose what background you want for the illustration. Whether you want the same one as on the original photo or want a plain beige or grey design, it's all down to your choosing.
What is the size and paper used for the illustration?
The digital illustration comes in a A4 size, perfect for framing and comes on hammered paper. For an additional cost, you can have the high-quality illustration on Tintoretto gesso (Fedrigoni) Italian textured paper to make the gift extra special.
Get in touch today to find out more about our personalised pet illustrations, the perfect gift for a pet owner.
"Ordered a print as a present and it's absolutely beautiful! It was also delivered incredibly quickly after ordering which was great. I'll definitely be buying from here again."
Jade Fraher
Portraits of Pets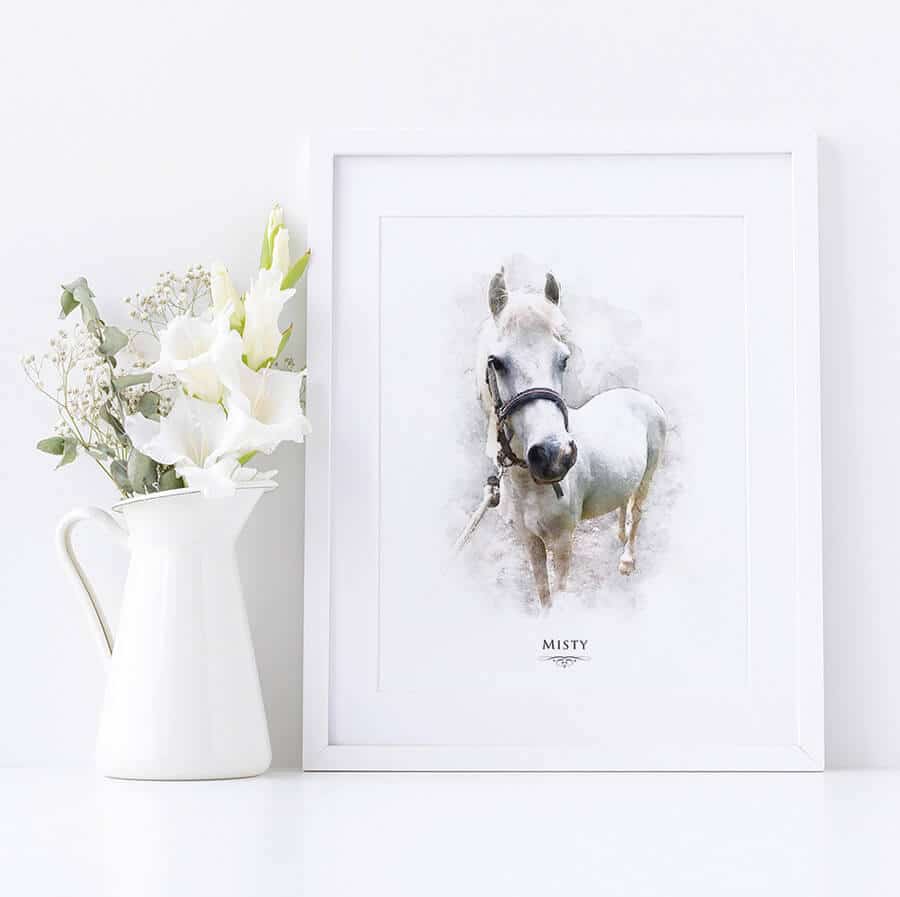 Got a portrait done of my horse after I saw a friends, and wow.. i'll be recommending this company to everyone, thanks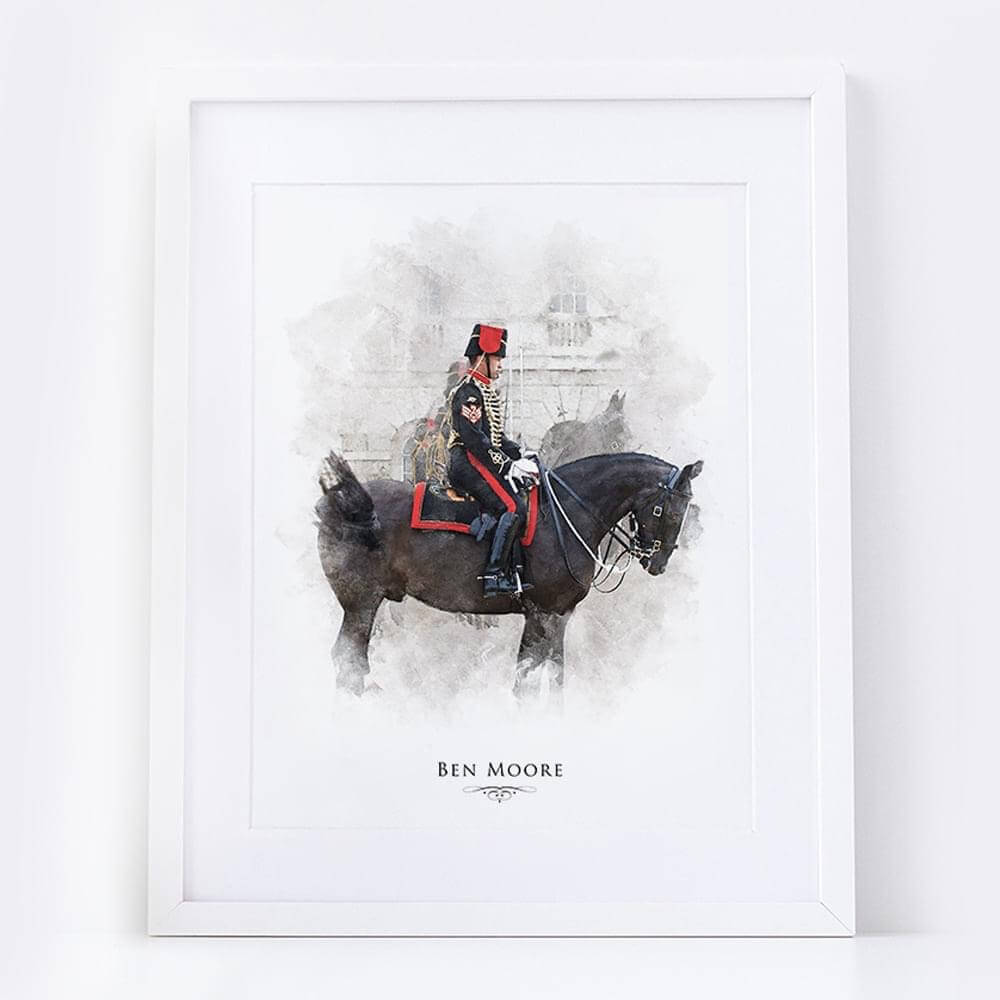 A memory captured beautifully in stunning print, something to hold onto forever. Thank you so much Laura and Created by Magic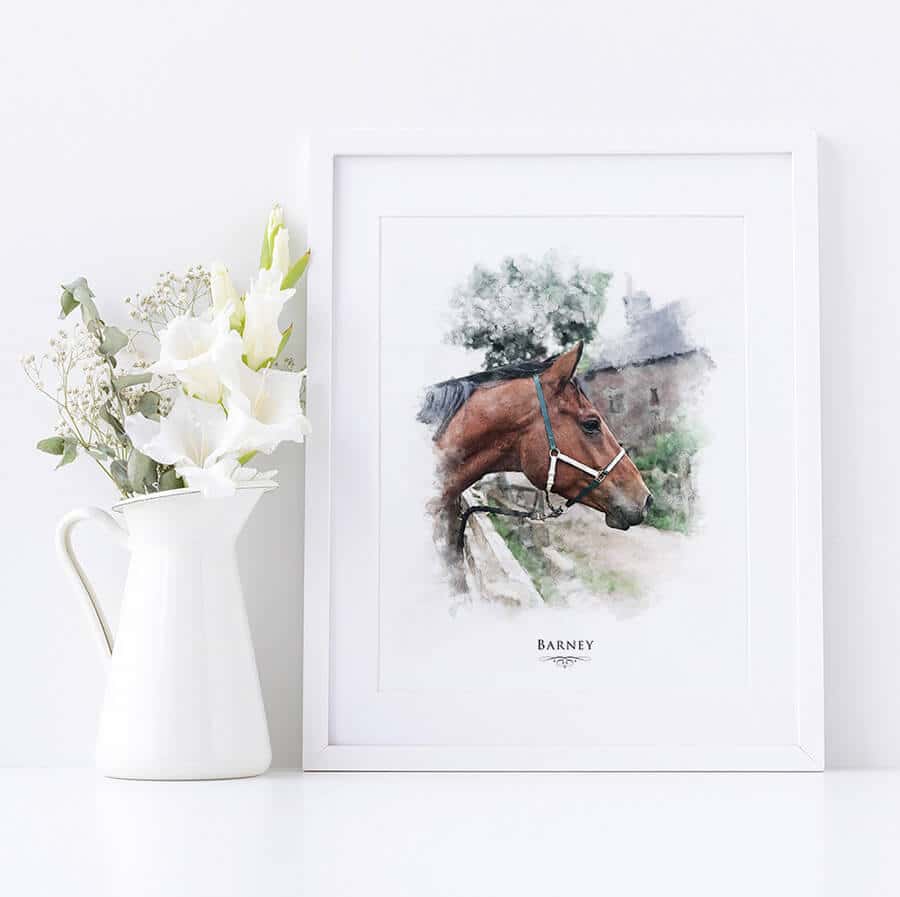 When my illustration came it far exceeded my expectations. Really good quality and cheaper than other sites. I would definitely recommend this site.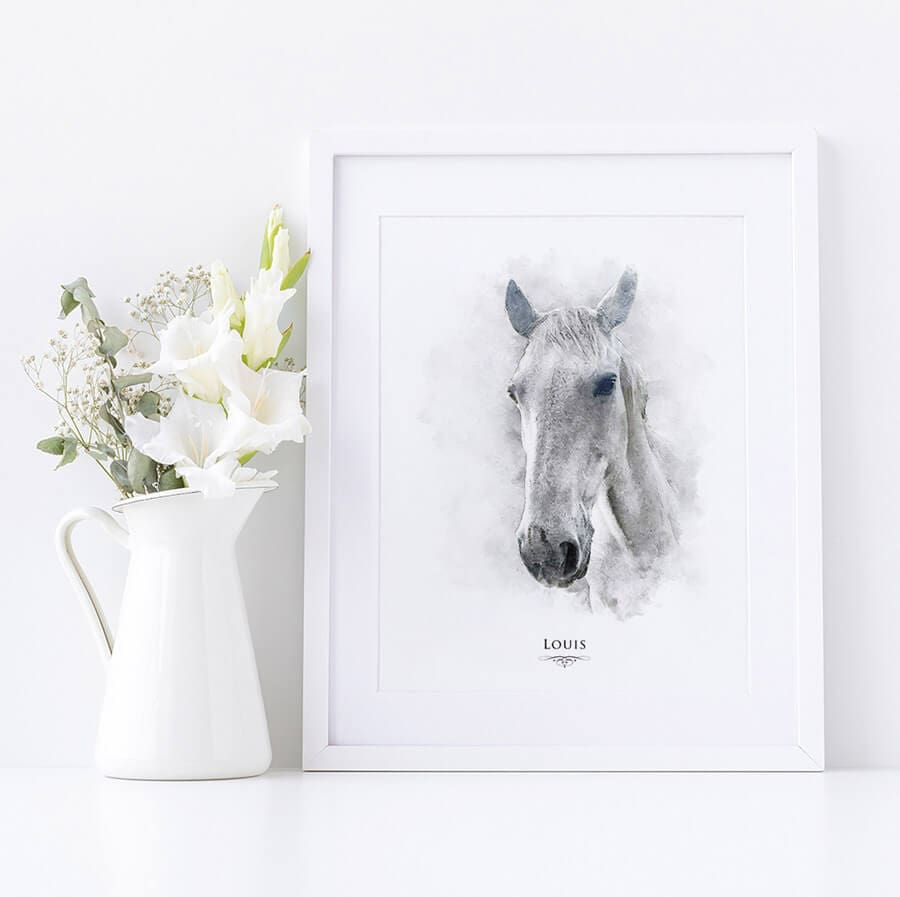 Lovely lovely portrait of my horse Henry, exactly what I wanted, shipped quickly. Even beautifully written envelope. Would use again and highly recommend!
The Finest Papers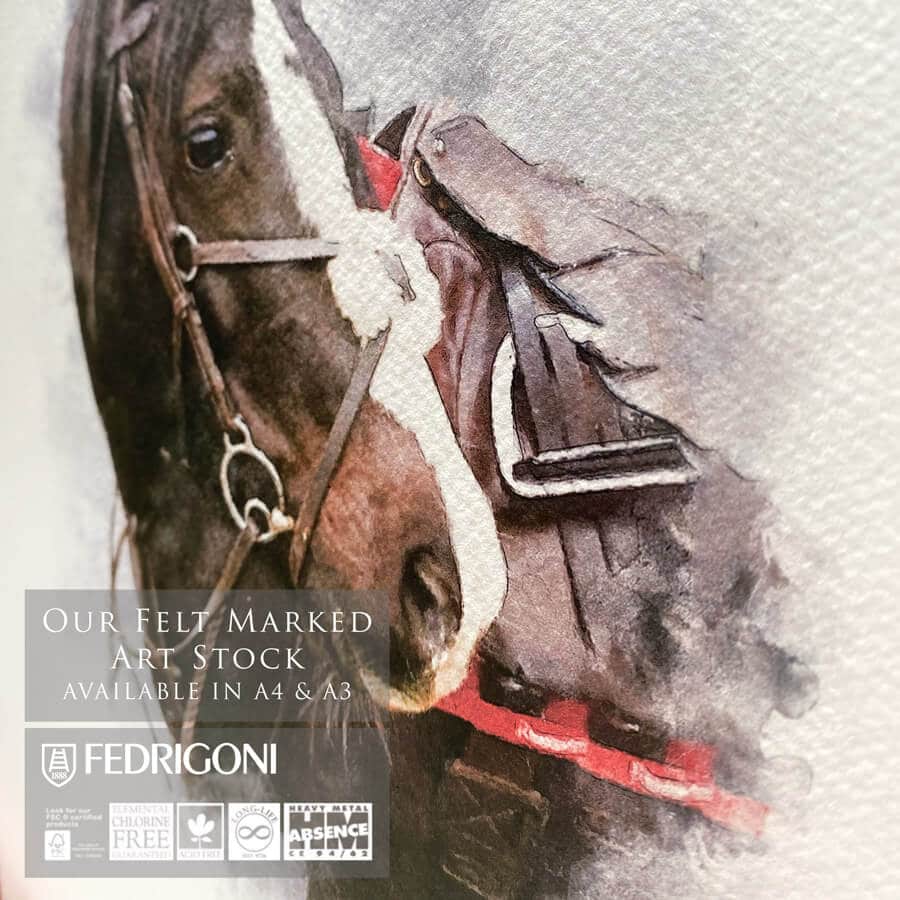 We work with the most stunning felt marked Tintoretto Gesso paper which compliments your pet portrait beautifully. This is available in two thicknesses, which has a subtle difference, the felt mark is ever so slightly deeper on the 300gsm in comparison to the 250gsm. You can read more about the paper on our paper guide page, if you have any further questions, please get in touch.
Your pet portrait is totally unique to you, you may choose to have a simple light grey watercolour behind your pet or include the original background that appears in the photograph. This is a great idea if your pet is sitting in its favourite spot or running through a bluebell meadow to add some personality to portrait of your pet.
Alternatively, we can do an artistic mix of both of those options, this is recommended if your pet is photographed with a slight covering, ie blanket is covering its paw or your pet is laying in long grass.
Whichever you decide, our creative team will work their magic on your personalised pet portrait.
A pet portrait memorial print is a wonderful alternative to a traditional photograph, and we will capture their unique characteristics and spirit in a creative way, making our pet art a touching tribute to the memory of your pet. You can choose to add a little 'In loving memory' text above your beloved pets name and even add a special message below, making this a wonderful memorial keepsake.
We pride ourselves on our high-quality prints, and we do need high resolution images to ensure this is achieved. If possible, you could take a new image using the highest resolution setting option on your camera or smartphone.
We know that in many cases it might not be possible to send a brand-new image across, so please send any potential photographs to our team and we will do our best to help.
Please see our guide for Top Tips to Photograph Your Pet for a Portrait
.