Our Stunning Paper
As an FSC certified source, the paper is known for its soft hue and lightly hammered surface, which is a result of the environmentally friendly ECF pulp manufacturing process.
Our digital prints, artwork and illustrations are brought to life by this excellent printing paper and we are sure you will be impressed, whether you are ordering a gift or a piece of art for your own home.

Not sure about image quality?
It's sometimes difficult to tell whether the image of your pet will be good enough to create a digital illustration from your phone/device. Please feel free to send you image or images to us and we'll let you know what if your image has the quality we need to create this pet portrait print.
What we need to create one of the pet portraits?
Simply send us a high resolution image of your beloved pet, we ask that the image is a minimum of 1mb in file size. The quality of the image with depict the outcome of the illustration due to the way it is created digitally.
Tips for a good photograph for a pet portrait;
Use natural light
Space around the pet in the image
Avoid zooming in
If you use flash, only do so during the day
Use gridlines to balance your shot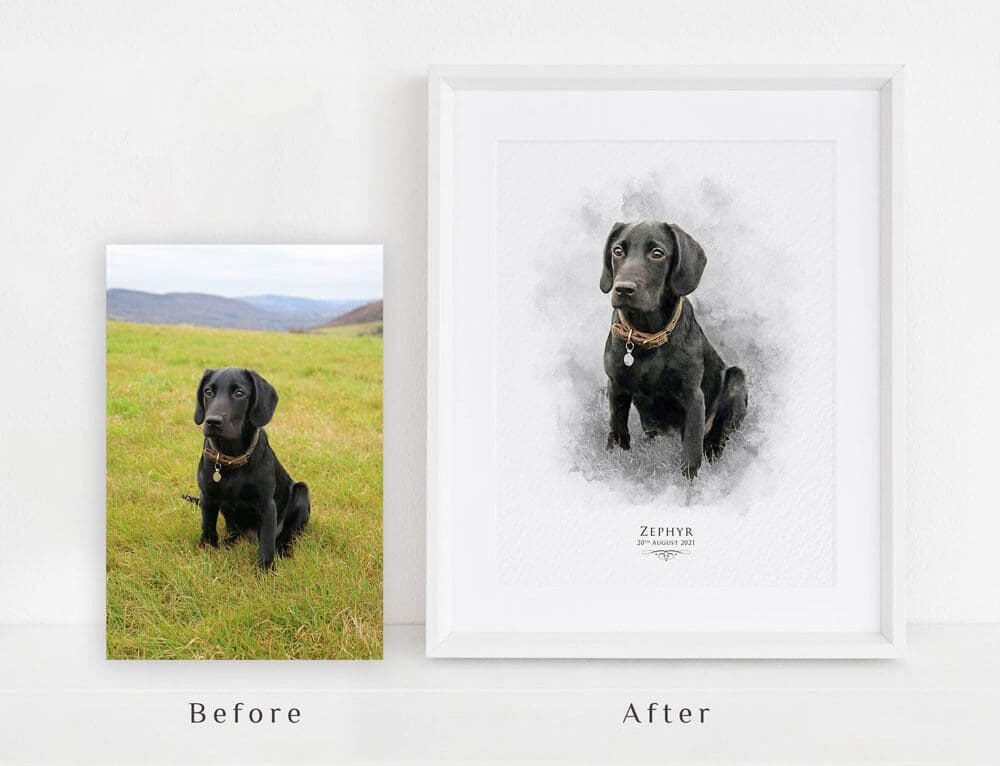 How it works:
Simply choose which style portrait you'd like, upload your image and select background style and size/finish.
We will create your digital watercolour pet portraits and add your personalisation.
You can request a design proof of your pet portrait, however this is optional. Once your design is complete, we'll send to print or to be framed.
When your order is ready we will dispatch in a timely manner your pet portrait will be delivered to your door!
Award Winning Pet Portraits
As chosen by BBC Dragons Den's, Theo Paphitis
Our award winning pet portraits regularly win over fans, which makes us very happy here at Created By Magic! We're also delighted to be supported as a small business, with our dog portraits and pet memorial portraits now officially award-winning. 
In 2018, we were the recipients of the 'Small Business Sunday' award, with respected entrepreneur Theo Paphitis choosing us for our work who in turn now has a pet portrait of his own, of his dog Gladys.
Our award-winning pet portraits are the ideal way to brighten up any room, and make great gifts for devoted pet owners. 
Customer Reviews
Hear what our loyal customers say about us, and our work.
After my dog unexpectedly passed away a couple of months ago I wanted to order a painting of him for my mum to frame. I came across this site and contacted them on Facebook messenger with some queries about the picture I was going to use etc. The lady was so lovely and caring! The design was finished within a couple of days and I was given an online copy to check and amend, I ordered some additional copies and then it came in the post the next day. It was absolutely perfect! Made us all cry with how realistic and detailed it was. A truly brilliant business. I showed all of my friends the design and they was all stunned, I have even had a couple contact me recently to ask for the site so that they can get a design done for their family too! Would 100% recommend. Thank you so much 😊
I bought a watercolour picture of my son's dog as a gift. The print is outstanding, I couldn't be happier. I know my son will be over the moon with it. The customer service from Created by Magic was fantastic, I ordered the print, checked the proof and received the actual item within a week!!! Seriously 2 weeks before Christmas, that has got to be the best service I've ever had and the quality is first class. I will be back to buy more and will certainly recommend. Keep up the good work :)
The portrait of our puppy now hangs in our living room. I gave it to my partner for their birthday and they absolutely love it. The service was faultless too – quick responses to enquiries and super fast delivery. I love the result and would 100% recommend as a wonderful gift.
What a fantastic find! The perfect gift for my partner and he loves it. We recently lost our beautiful beloved cat Sylvester and I opted for the pet portrait. It arrived so quickly and I'm super happy with it. So much so I have ordered another pet portrait for my mum. Thankyou so much. Would definitely recommend
How much does a pet portrait cost?
Pet portrait prices vary, our portraits are created digitally using digital watercolour brushes and cost between £28.00 and £91.00 depending on the personalisation, size and finish you choose. Due to the way our portraits are created, your portrait will always be an accurate representation of your pet.
Alternatively, Hand-painted pet portraits of a similar size and style can cost somewhere between £130 and £560, all artists styles and standards are different so it's always worth checking their portfolio before they begin.
How do I create a Pet Portrait?
Choose the pet portrait design
Send us the personalisation

First Name
Message underneath
'In loving memory' added (optional)
Background options
Upload high resolution image
Choose the size & finish

We will then create the design
We dispatch the same day if ordered before 11am (Mon – Fri)
Framing your pet portraits
We believe that the milestones in your life should be celebrated and cherished, and in our opinion, there is no better way than with framed pet portraits and framed artwork. Whether you are looking for framed pictures as a gift or to have your special prints framed, we have carefully selected a range of handmade frames and high-quality traditional window mounts.
We offer two print design sizes, A4 and A3, with matching frame sizes. These are the most popular sizes for wall mounted prints, and we have a variety of paper finishes available to suit your specific requirements. The frames will arrive ready to be placed on the wall, with fittings on the reverse of the MDF backing. All products have options for framing on the individual product pages making it easy to place your framing together with your personalised print order.