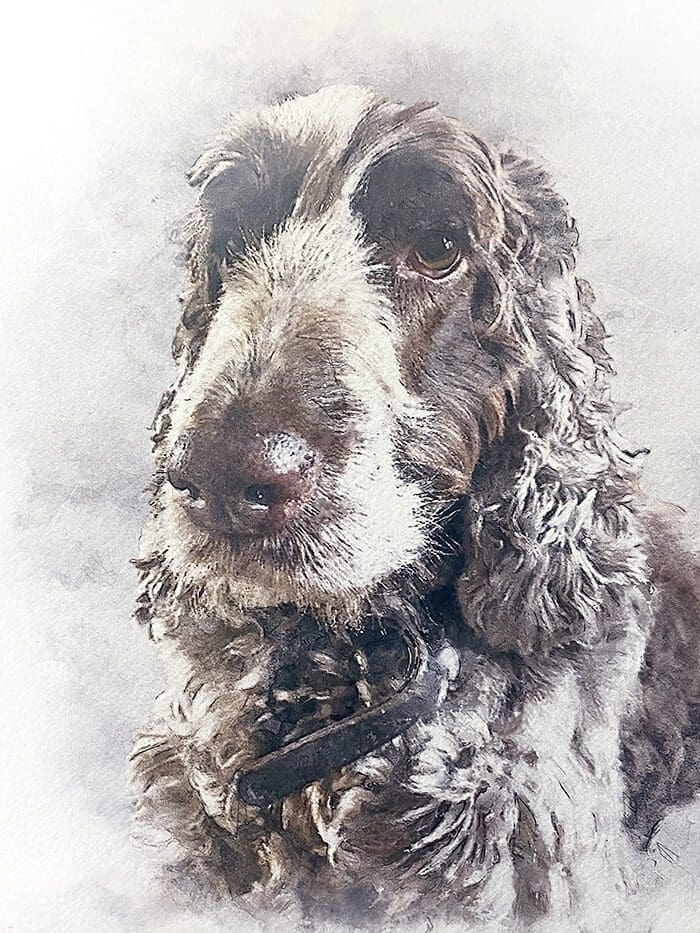 We are passionate about
creating beautiful dog portraits
Stunning Watercolour Dog Portraits
Are you looking for a thoughtful gift for a person who seems to have everything, transforming a dog photo into a digital dog portrait is a brilliant idea.
As dog owners, we know just how much a dog means to a home and we promise that a custom portrait of a dog will be the perfect interior accessory. Our dog portraits are printed on the finest Italian felt marked paper and delivered in a timely manner, making it a perfect last minute gift.
Our pet portraits are unique to you as a pet owner, the watercolour style has been the same since 2016 and will remain the same for years to come. Making it a perfect way to collect pet portraits of all your beloved pets for a consistent design across your framed prints at home.
We work with the most stunning felt marked Tintoretto Gesso paper which will compliment your pet portraits beautifully. This is available in two thicknesses, which has a subtle difference, the felt mark is ever so slightly deeper on the 300gsm in comparison to the 250gsm. You can read more about the paper on our paper guide page, if you have any further questions, please get in touch.
Your pet portrait is totally unique to you, you may choose to have a simple light grey watercolour behind your pet or include the original background that appears in the photograph. This is a great idea if your pet is sitting in its favourite spot or running through a bluebell meadow to add some personality to portrait of your pet.
Alternatively, we can do an artistic mix of both of those options, this is recommended if your pet is photographed with a slight covering, ie blanket is covering its paw or your pet is laying in long grass.
Whichever you decide, our creative team will work their magic on your personalised pet portrait.
Our dog portraits can be tweaked into a memorial print is a wonderful alternative to a traditional photograph, and we will capture their unique characteristics and spirit in a creative way, making our pet art a touching tribute to the memory of your dog. You can choose to add a little 'In loving memory' text above your beloved pets name and even add a special message below, making this a wonderful memorial keepsake.
We pride ourselves on our high-quality prints, and we do need high resolution images to ensure this is achieved. If possible, you could take a new image using the highest resolution setting option on your camera or smartphone.
We know that in many cases it might not be possible to send a brand-new image across, so please send any potential photographs to our team and we will do our best to help.
Please see our guide for Top Tips to Photograph Your Pet for a Portrait
.
We can also supply our pet portraits framed, Whether you choose a traditional natural real wood frame or a modern white or black painted wood frame, we guarantee to provide a range of options which will suit every interior style.
You can read more on our framing by clicking here.
Custom pet portraits make a perfect gift for a pet owner, with many of our customers sending their favourite photographs for us to turn into unique pet art. From birthdays and Christmas gifts to anniversaries and other special occasions, our traditional watercolour pet portraits will create a focal point in any room.
We believe that pets share a special place in their families, and every home should be adorned with images of beloved pets. We only use the best quality materials in our pet illustrations, so you can be sure that your gift will arrive in perfect condition ready to be treasured for many years. From images of cats in their garden, to dogs on their favourite walk and horses at a sporting event, we can transform any great photograph into a stunning piece of pet art.
We understand just how heart-breaking it can be to lose a much-loved companion, which is why our team take such care to create beautiful pet illustrations for those who have suffered the loss of a pet.  A pet portrait memorial print is a wonderful alternative to a traditional photograph, and we will capture their unique characteristics and spirit in a creative way, making our pet art a touching tribute to the memory of your pet.
Our pet portraits are digitally created with high quality photographs, our graphic designers use digital brushes and the latest design software to create a portrait of your pet that is life-like yet affordable. Hand-painted can often mean – expensive, also without spending a huge budget, hand-painted may not 'capture' the character of your pet as well as our digitally created approach.