Horse Portraits
Specialising in beautiful, lifelike portraits created with digital watercolour brushes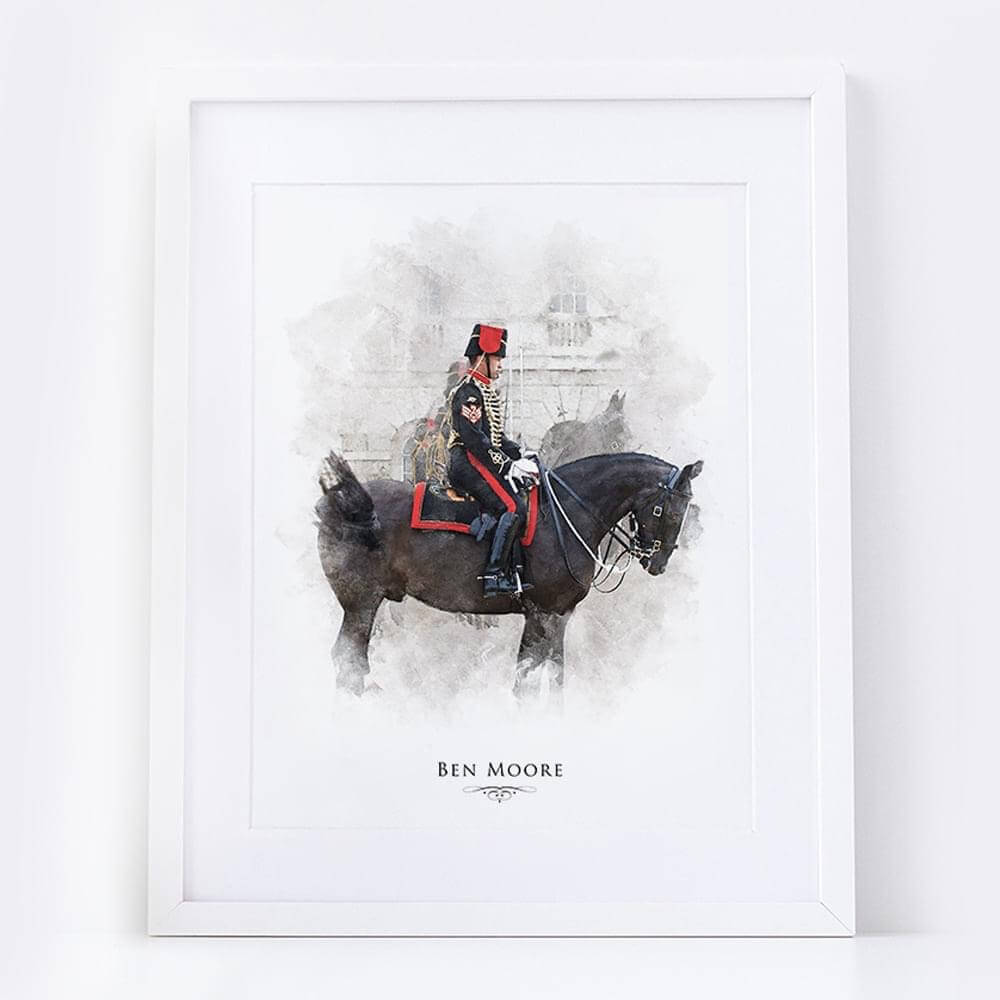 " A memory captured beautifully in stunning horse print, something to hold onto forever. Thank you so much Laura and Created by Magic "
Karen Steele
Framing your horse portrait
We believe that the milestones in your life should be celebrated and cherished, and in our opinion, there is no better way than with a framed horse portrait and framed artwork. Whether you are looking for framed pictures as a gift or to have your special prints framed, we have carefully selected a range of handmade frames and high-quality traditional window mounts.
We offer two print design sizes, A4 and A3, with matching frame sizes. These are the most popular sizes for wall mounted prints, and we have a variety of paper finishes available to suit your specific requirements. The frames will arrive ready to be placed on the wall, with fittings on the reverse of the MDF backing. All products have options for framing on the individual product pages making it easy to place your framing together with your personalised print order.
How much does a horse portrait cost?
Horse portrait prices vary, our portraits are created digitally using digital watercolour brushes and cost between £28.00 and £91.00 depending on the personalisation, size and finish you choose. Due to the way our portraits are created, your portrait will always be an accurate representation of your horse.
Alternatively, Hand-painted horse portraits of a similar size and style can cost somewhere between £130 and £560, all artists styles and standards are different so it's always worth checking their portfolio before they begin.
How do I create a Horse Portrait?
Choose the horse portrait design
Send us the personalisation

First Name
Message underneath
'In loving memory' added (optional)
Background options
Upload high resolution image
Choose the size & finish

We will then create the design
We dispatch the same day if ordered before 11am (Mon – Fri)
Custom Horse Portraits
Since 2015 the highly skilled Created by Magic team have transformed pet photographs into one of a kind, personalised digital portraits. There is nothing we love more than expertly capturing the fun, playful and loving personality of your pets forever, and our horse portraits are a perfect example of the stunning watercolour prints our team can create.
What is a personalised horse portrait?
Our personalised horse portrait services can turn any photograph into a stunning piece of art, which perfectly captures the playful spirit and sporting ability of every horse. From sentimental pictures of horses and their owners to mesmerising images of riders trotting and jumping, we will transform your much-loved photographs into personalised digital watercolour prints which can be treasured for many years to come.
A bespoke equestrian portrait gift
If you are looking for an unusual gift for a passionate horse rider, our personalised horse portraits are the perfect gift. By creating stunning digital illustrations from photographs, we can create timeless works of art which serve as a reminder of their special bond. Whether you are looking for a print of the horse alone, multiple horses or with the horse and their owner, our team will design a beautiful illustration which the recipient will be proud to own.
A realistic horse painting is also a very thoughtful gift for those who have experienced the loss of a beloved horse. A horse is an important part of every owner's life, and when they pass away it can be a very difficult time. However, a custom horse portrait is a beautiful way to remember a much-loved animal forever and if you have a photo in mind that perfectly captures the personality of the horse, our team will create a digital equestrian portrait which brings to life their spirit forever.
How to create your custom horse portrait
The first step in creating your realistic digital horse painting is to decide which photo to use. Ideally, the focus of the image will be the horse, and it should be excellent quality with a bright, light background, as it is the small details which will really bring your watercolour horse portrait to life. If you would like to include more than one horse within the illustration, they will need to be standing together.
We know how important it is to create a horse portrait which is truly unique, so we can add the horses' name, special dates, and a meaningful message to the print. Simply let us know your requirements and we will do our best to bring your ideas to life. Once the design if finalised, it is possible to choose from either A4 or A3 sized custom horse portraits, which are all printed on premium luxe paper with an option for framing.
Whether you are looking for the perfect gift for an equestrian fan or searching for a realistic digital horse painting for yourself, we guarantee our watercolour horse portraits will take pride of place in every home. To find out more about the possible custom horse portrait options or to place your order, please contact our talented team today.