Handmade with pride
in Britain
We believe that the milestones in your life should be celebrated and cherished, and in our opinion, there is no better way than with framed personalised prints and framed artwork. Whether you are looking for framed pictures as a gift or to have your special prints framed, we have carefully selected a range of handmade frames and high-quality traditional window mounts.
Whether you choose a traditional natural real wood frame or a modern white or black painted wood frame, we guarantee to provide a range of options which will suit every interior style. We know that when it comes to artwork, prints and personalised gifts, the best finishes rely on paying careful attention to every detail. So, rather than poor quality cardboard backing and styrene, our carefully selected frames compliment our prints with strong MDF backing and a safe, crystal clear Plexiglas.
We have chosen to incorporate traditional window mounts, so that your treasured print is perfectly framed and truly stands out when hung in your home. Our high-quality mounts are designed to draw the viewer's eye to the key details in the print, so you can be sure that our printed and framed artwork will capture everyone's attention. We take pride in using the finest materials and the high-quality board used within our mounts adheres to the strict conservation standards which are set by the Fine Art Guild.
Beautifully packaged
for safe arrival
Our focus on product quality extends to our beautiful packaging, as we know the first thing you will see and touch when your new framed prints arrive is the packaging. Whether you have ordered framed art for your own home or framed pictures as a gift, our special packaging will create an unboxing experience which is sure to impress. Of course, careful packaging is also important when it comes to ensuring that your printed and framed artwork arrives in perfect condition.
In terms of delivery, we use the Parcelforce delivery service, as they have an excellent reputation for delivering a fantastic service. In fact, they are the trusted deliver partners for luxury brands such as Harrods and Hamley's of London! Before your framed prints leave the Created by Magic warehouse, they will undergo a thorough quality check by our production team, so that we can be sure that your order meets our high standards. As soon as your delivery is on its way, you will be able to follow the parcel via the Parcelforce tracking tool.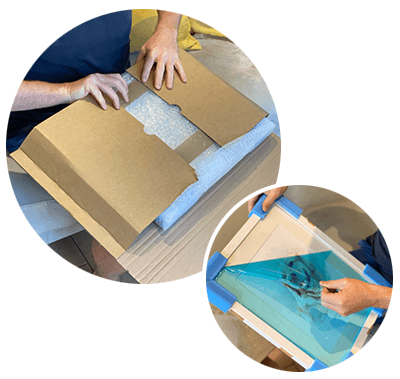 Professionally printed and framed
Only the best for our customers
Environmentally friendly suppliers
The framed art we design and manufacture is designed to last a lifetime, and we are committed to operating in a sustainable way which reduces our impact on the environment. As part of our commitment to reduce our carbon footprint, all wooden moulding used within our frames is sourced from suppliers which hold the FSC and PEFC chain of custody certifications.
In addition, the card mounts we use meet the conservation standards which are established by the Fine Art Guild. By choosing supplies from sustainable forests, we are contributing to the creation of more forestry land than we are using within the production of our frames. 
We offer two print design sizes, A4 and A3, with matching frame sizes. These are the most popular sizes for wall mounted prints, and we have a variety of paper finishes available to suit your specific requirements. If you are planning the layout of your framed prints within your home, it is worth noting that the overall frame size will be larger than the print dimensions:
A4 Aperture (29 cm x 21 cm) print with an overall frame size of 42cm x 33cm
A3 Aperture (42 cm x 29 cm) print with an overall frame size of 52cm x 43cm.
The frames will arrive ready to be placed on the wall, with fittings on the reverse of the MDF backing.