Theo Paphitis Small Business Sunday –
  

#SBS Award
In 2018 we were recognised by the hugely successful businessman, Theo Paphitis, who is well known for his role in the popular show Dragons' Den. Theo runs the popular Small Business Sunday award from his Twitter page using the tag #sbs, with the famous entrepreneur choosing companies every week to promote on his page.
To be recognised by Theo has been a huge boost to our business, as the award has helped to raise awareness of our product range while also helping us to share ideas with other like-minded businesses on Twitter. As part of the competition, Theo holds an annual event at the ICC in Birmingham with competition winners awarded a free ticket. The event is such a brilliant evening and we also attended in 2020 and 2022, and to meet Theo in person was very inspiring you can read more about the event here.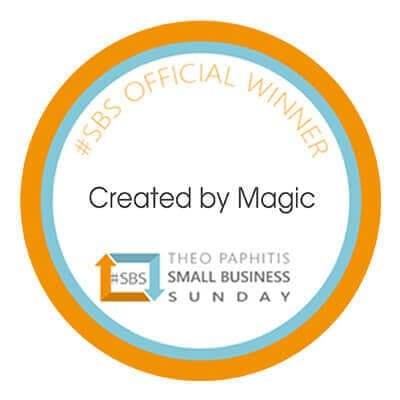 Jacqueline Gold CBE #WOW Award – Woman in Business
This prestigious competition is run by Jacqueline Gold CBE, the owner of the retail brand Ann Summers, and aims to recognise female entrepreneurs and businesswomen. Since 2011, the Women in Business competition has run on Jacqueline's Twitter page using the tag #WOW, otherwise known as Women on Wednesday. On 14th February 2018, Created by Magic was chosen as the winner, with Jacqueline herself praising our dynamic website for making shopping for personalised gifts fun and easy.
Winners are chosen based on their strong brand values, as well as their ability to grow and succeed in their industry. Naturally, we are so proud to be picked as a winner by such an experienced businesswomen and knowing that she was impressed by our product range, website and the thought we put into each and every order is an honour.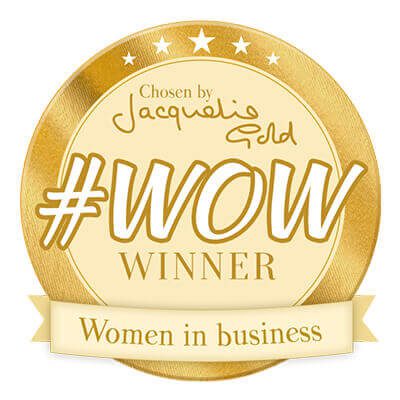 #SmartSocial Twitter Award
The #SmartSocial Twitter award was launched in May 2021 by Marketme, a leading content marketing agency. It is awarded to businesses which are using social media in the most innovative ways, and we were thrilled to be selected as the winner on 29th March 2020. To enter the competition, we were asked to tag Marketme in a tweet using the popular #SmartSocial tag, and to explain how we use social media within our business.
Social media platforms play such a vital role in our advertising and without our network of followers, Created By Magic would not be such a thriving business. Our followers across our social media channels have helped to share our designs, and over the years we are proud to have built such a loyal following. To be selected for the #SmartSocial award is something we are extremely proud of, and we will continue to share our passion for personalised prints across our social media platforms.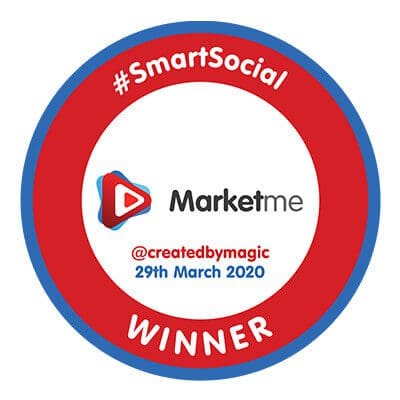 The Royal Connection Award – Queen of Unique Prints
The Aqua Design Group started the Royal Connection Awards in 2012, as a fun way to support women in business on Twitter. Initially, the competition tied in with Queen Elizabeth's Diamond Jubilee celebrations, with the #QueenOf competition tag proving to be very popular. The success of the competition continued, with the addition of #KingOf, #OrderOfFabulous, and #MonarchOf tags. 
Today, the Royal Connection Awards are a great way to promote women, men, and those within the LGBTQ community, and we are so proud to be a winner within this inclusive competition. There is fierce competition on Twitter every Thursday when a winner is chosen from each category, and over the years the Aqua Design group has helped to propel many businesses into the spotlight. As the #QueenOf Unique Prints we are proud of our royal title, and the support from those which follow the competition has been a great way to promote our business.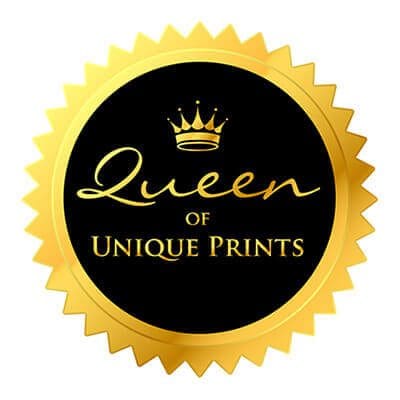 Rock My Wedding – Recommended Supplier
Rock My Wedding is often referred to as the best UK wedding planning resource, so to be included as a recommended supplier is an honour. The team at Rock My Wedding have carefully curated a list of the most creative businesses around, so that happy couples can plan their perfect wedding day. The supplier list includes everyone from dress designers to photographers, and our personalised print business is proud to be included as a recommended wedding stationery supplier.
There are so many talented businesses around the UK, and we are so pleased that our business was chosen as a recommended supplier for printed wedding items for couples throughout the UK. The website is a brilliant resource, and the useful search feature is a great way to find everything you could possibly need when planning a wedding.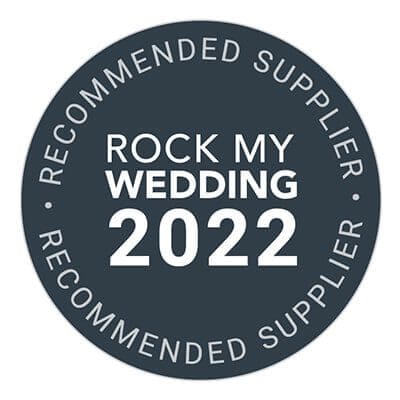 We have been accepted into the Natwest Accelerator program. We heard about this amazing opportunity at the Theo Paphitis event early this year, we're extremely honoured to have been chosen and hope to put the knowledge to good use. We will have 1:1 business coaching with an experience acceleration manager, access to thought leadership and events, networking, focused support with access to experts from across our specialism and so much more! Watch this space.