Local Pet Portrait Artist – Hampshire
We are passionate about creating life-like digital watercolour pet portraits. We specialise in this unique modern watercolour design, and we create each pet portrait from our design studio in Whiteley, Fareham (Hampshire) and selling  locally to Southampton and Portsmouth areas, throughout the United Kingdom and further.
Not sure about image quality?
It's sometimes difficult to tell whether the image of your pet will be good enough to create a digital illustration from your phone/device. Please feel free to send your image or images to us and we'll let you know what if your image has the quality we need to create this pet portrait print.
What we need to create one of the pet portraits?
Simply send us a high resolution image of your beloved pet, we ask that the image is a minimum of 1mb in file size. The quality of the image with depict the outcome of the illustration due to the way it is created digitally.
Tips for a good photograph for a pet portrait;
Use natural light
Space around the pet in the image
Avoid zooming in
If you use flash, only do so during the day
Use gridlines to balance your shot
How much does a pet portrait cost?
Our pet portraits vary in price, this is to give you, our customer a variety of options. You may opt to change to a simple grey background, have a larger size print, choose thicker paper or even have it framed.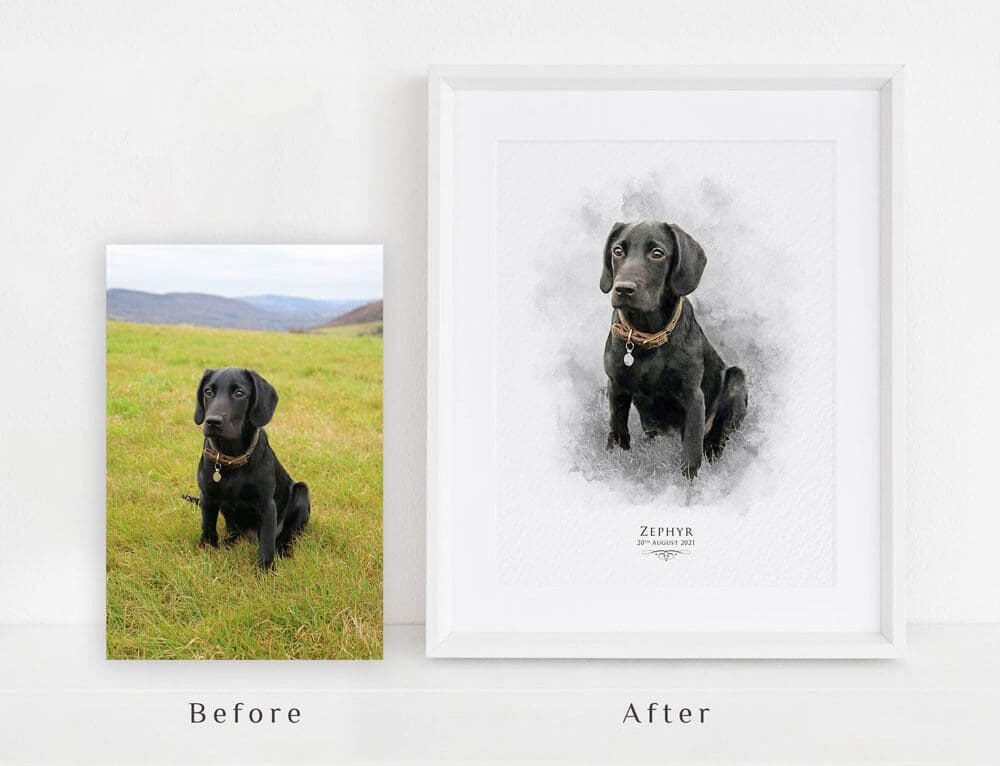 How it works:
Simply choose which style portrait you'd like, upload your image and select background style and size/finish.
We will create your digital watercolour pet portraits and add your personalisation.
You can request a design proof of your pet portrait, however this is optional. Once your design is complete, we'll send to print or to be framed.
When your order is ready we will dispatch in a timely manner your pet portrait will be delivered to your door!
Award Winning Pet Portraits
As chosen by BBC Dragons Den's, Theo Paphitis
Our pet portraits regularly win over fans, which makes us very happy here at Created By Magic! We're also delighted to be supported as a small business, with our dog portraits and pet memorial portraits now officially award-winning. 
In 2018, we were the recipients of the 'Small Business Sunday' award, with respected entrepreneur Theo Paphitis choosing us for our work who in turn now has a pet portrait of his own, of his dog Gladys.
Our award-winning pet portraits are the ideal way to brighten up any room, and make great gifts for devoted pet owners. 
Framing your pet portraits
We believe that the milestones in your life should be celebrated and cherished, and in our opinion, there is no better way than with framed pet portraits and framed artwork. Whether you are looking for framed pictures as a gift or to have your special prints framed, we have carefully selected a range of handmade frames and high-quality traditional window mounts.
We offer two print design sizes, A4 and A3, with matching frame sizes. These are the most popular sizes for wall mounted prints, and we have a variety of paper finishes available to suit your specific requirements. The frames will arrive ready to be placed on the wall, with fittings on the reverse of the MDF backing. All products have options for framing on the individual product pages making it easy to place your framing together with your personalised print order.
How much does a pet portrait cost?
Pet portrait prices vary, our portraits are created digitally using digital watercolour brushes and cost between £28.00 and £91.00 depending on the personalisation, size and finish you choose. Due to the way our portraits are created, your portrait will always be an accurate representation of your pet.
Alternatively, Hand-painted pet portraits of a similar size and style can cost somewhere between £130 and £560, all artists styles and standards are different so it's always worth checking their portfolio before they begin.
How do I create a Pet Portrait?
Choose the pet portrait design
Send us the personalisation

First Name
Message underneath
'In loving memory' added (optional)
Background options
Upload high resolution image
Choose the size & finish

We will then create the design
We dispatch the same day if ordered before 11am (Mon – Fri)
Creating pet portraits locally and nationally
We have been providing pet portraits local to our design studio in Whiteley, Hampshire which is a small town between Portsmouth and Southampton for the past 7 years. Our local Hampshire customers are a fantastic client base for us, due to being close to Dorset, Wiltshire, Surrey and West Sussex we have grown to provide locally to surrounding counties.
We have also worked with customers in large cities in the UK – London, Birmingham, Manchester, Liverpool, Bristol, Sheffield and further. We are proving a popular go-to brand for pet portraits in and around local cities and nationally.