Our pet portrait designs are unique to you as a pet owner, the watercolour style has been the same since 2016 and will remain the same for years to come. Making it a perfect way to collect a pet portrait of all your beloved pets for a consistent design across your framed prints at home.
We work with the most stunning felt marked Tintoretto Gesso paper which will compliment your pet portraits beautifully. This is available in two thicknesses, which has a subtle difference, the felt mark is ever so slightly deeper on the 300gsm in comparison to the 250gsm. You can read more about the paper on our paper guide page, if you have any further questions, please get in touch.
Your pet portrait is totally unique to you, you may choose to have a simple light grey watercolour behind your pet or include the original background that appears in the photograph. This is a great idea if your pet is sitting in its favourite spot or running through a bluebell meadow to add some personality to portrait of your pet.
Alternatively, we can do an artistic mix of both of those options, this is recommended if your pet is photographed with a slight covering, ie blanket is covering its paw or your pet is laying in long grass.
Whichever you decide, our creative team will work their magic on your personalised pet portrait.
A pet portrait memorial print is a wonderful alternative to a traditional photograph, and we will capture their unique characteristics and spirit in a creative way, making our pet art a touching tribute to the memory of your pet. You can choose to add a little 'In loving memory' text above your beloved pets name and even add a special message below, making this a wonderful memorial keepsake.
We pride ourselves on our high-quality prints, and we do need high resolution images to ensure this is achieved. If possible, you could take a new image using the highest resolution setting option on your camera or smartphone.
We know that in many cases it might not be possible to send a brand-new image across, so please send any potential photographs to our team and we will do our best to help.
Please see our guide for Top Tips to Photograph Your Pet for a Portrait
.
We can also supply your pet portrait framed, Whether you choose a traditional natural real wood frame or a modern white or black painted wood frame, we guarantee to provide a range of options which will suit every interior style.
You can read more on our framing by clicking here.
A custom pet portrait can make a perfect gift for a pet owner, with many of our customers sending their favourite photographs for us to turn into unique pet art. From birthdays and Christmas gifts to anniversaries and other special occasions, our traditional watercolour pet portraits will create a focal point in any room.
We believe that pets share a special place in their families, and every home should be adorned with images of beloved pets. We only use the best quality materials in our pet illustrations, so you can be sure that your gift will arrive in perfect condition ready to be treasured for many years. From images of cats in their garden, to dogs on their favourite walk and horses at a sporting event, we can transform any great photograph into a stunning piece of pet art.
We understand just how heart-breaking it can be to lose a much-loved companion, which is why our team take such care to create beautiful pet illustrations for those who have suffered the loss of a pet.  A pet portrait memorial print is a wonderful alternative to a traditional photograph, and we will capture their unique characteristics and spirit in a creative way, making our pet art a touching tribute to the memory of your pet.
Not sure about image quality?
It's sometimes difficult to tell whether the image of your pet will be good enough to create a digital illustration from your phone/device. Please feel free to send you image or images to us and we'll let you know what if your image has the quality we need to create this pet portrait print.
What we need to create a pet portrait?
Simply send us a high resolution image of your beloved pet, we ask that the image is a minimum of 1mb in file size. The quality of the image with depict the outcome of the illustration due to the way it is created digitally.
Tips for a good photograph for a pet portrait;
Use natural light
Space around the pet in the image
Avoid zooming in
If you use flash, only do so during the day
Use gridlines to balance your shot
How much does a pet portrait cost?
Our pet portraits vary in price, this is to give you, our customer a variety of options. You may opt to change to a simple grey background, have a larger size print, choose thicker paper or even have it framed.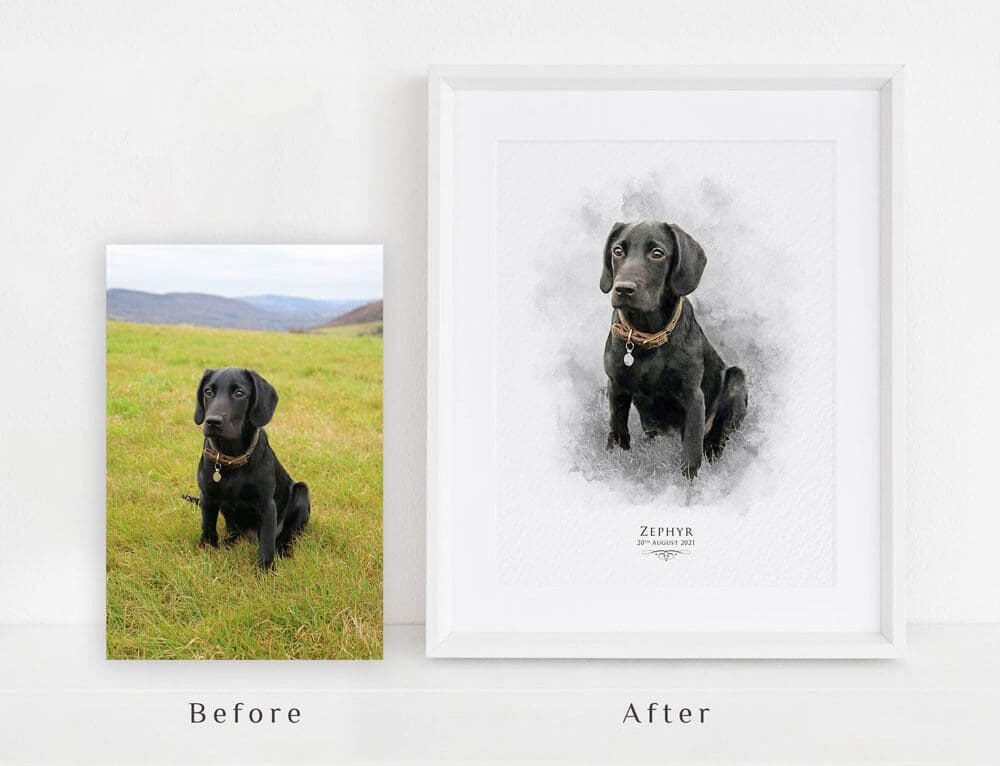 How it works:
Simply choose which style portrait you'd like, upload your image and select background style and size/finish.
We will create your digital watercolour pet portrait and add your personalisation.
You can request a design proof of your pet portrait, however this is optional. Once your design is complete, we'll send to print or to be framed.
When your order is ready we will dispatch in a timely manner your pet portrait will be delivered to your door!
We ordered a pet portrait of our beloved cocker spaniel who passed away very recently. We simply cannot believe what the final print looked like, it was just magical and so very lifelike. Thanks Laura for all your very prompt help with the process.
-David Ridding
I contacted Laura as I wanted to give the gift of a portrait of our puppy to my partner. Laura's response to emails and queries was super fast and efficient. Having told Laura the date of my partner's birthday, she completed my order within just a few days. I am so happy with the result! The portrait is fantastic and such good value for money. Thank you Laura, 100% recommended.
-Helen Wright
Bought a pet watercolor portrait for my parents as a Christmas gift, after our dog died last year. Beautiful work, made my mom cry! Truly captures the essence of your pet. Thank you so much. Will absolutely use your products again! xx
-Sophie
Absolutely love my portraits!!! Will 100% be ordering again!! Laura worked so hard with me to get the perfect images to work from and I can't thank her enough!! They are perfect!!
-Brian Hall
Award Winning Pet Portraits
As chosen by BBC Dragons Den's, Theo Paphitis
Our pet portraits regularly win over fans, which makes us very happy here at Created By Magic! We're also delighted to be supported as a small business, with our dog portraits and pet memorial portraits now officially award-winning. 
In 2018, we were the recipients of the 'Small Business Sunday' award, with respected entrepreneur Theo Paphitis choosing us for our work who in turn now has a pet portrait of his own, of his dog Gladys.
Our award-winning pet portraits are the ideal way to brighten up any room, and make great gifts for devoted pet owners.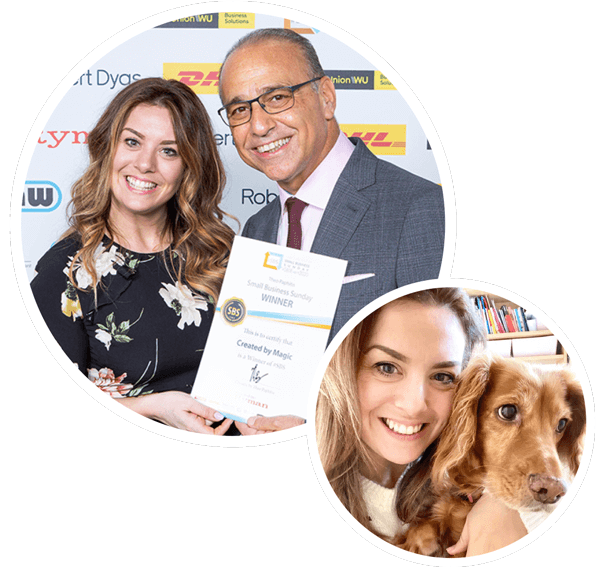 Framing your pet portrait
We believe that the milestones in your life should be celebrated and cherished, and in our opinion, there is no better way than with a framed pet portrait and framed artwork. Whether you are looking for framed pictures as a gift or to have your special prints framed, we have carefully selected a range of handmade frames and high-quality traditional window mounts.
We offer two print design sizes, A4 and A3, with matching frame sizes. These are the most popular sizes for wall mounted prints, and we have a variety of paper finishes available to suit your specific requirements. The frames will arrive ready to be placed on the wall, with fittings on the reverse of the MDF backing. All products have options for framing on the individual product pages making it easy to place your framing together with your personalised print order.