Purely an overview of the Top 5 Personalised Nursery Prints of 2016, our top selling personalised prints throughout the site. Number 1 being the biggest seller, created using children's scanned artwork.
If you're looking to get the perfect print then look no further; these unique personalised gifts are the best present you could offer, or give to yourself. They are one of a kind typographic art that you can have created using your own words and phrases, and even better there is free standard shipping. These are also great to hang in the nursery as wall art, and they can remain there as the child ages.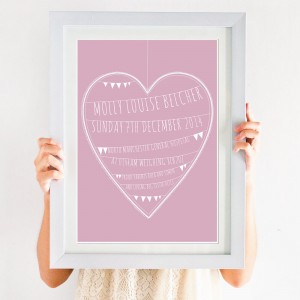 5. Heart Nursery Art
This one is great personalised gift for mum with a custom design that's sure to satisfy the pickiest of person. It's thoughtful and unique. It could also be altered into a Christening print using the date, time and location of baptism, hey, why not throw in the god-parents names as well!