Say hello to the new Created By Magic branding
You may have noticed a big change to the Created By Magic branding recently, as we have recently unveiled our exciting new logo and a few design tweaks. Whilst we will always love our original logo, and the business it helped us to build, we feel as if the classic and luxurious style of our new logo perfectly captures our evolving brand.

A background of Created By Magic
As with all growing businesses, change is inevitable, and we are proud of the way Created By Magic has grown from a small garage based business in 2015 to the popular brand our customers love. In fact, the business has doubled in size every year, and we are excited about what the future holds for the business.
One of our proudest moments came in 2018, when we won an award for being a 'Small Business Champion'. Theo Paphitis, famous for his role on the Dragon's Den, chose Created By Magic as the winner and recognised our team for their unique wedding stationery designs and personalised prints. It is this award and mention from Theo which helped to propel our business forward, and we are committed to living up to the expectations of our customers and supporters alike. 
Over the years we have attracted many loyal fans with our range of hand-crafted gifts, prints and stationery designs, and our loyal customers will remember our first nursery wall art designs and Santa letters. These initial designs were literally 'Created By Magic', to add a personal touch to young children's lives. 
However, in addition to our original treasured designs, today we are well-known for creating a wide range of bespoke luxury prints, with everything from family portraits through to our wedding stationery range. As a business which aims to appeal to both adults and children alike, we believe that our new logo captures the creativity, personality, and the fun spirit of our brand, as we continue to create the high-quality designs our team is known for.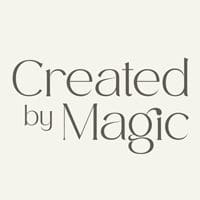 The new Created By Magic logo
The playful, distinctive design of our first logo captured the creativity of our team, and while we will always remember our initial branding fondly, we felt it was time for the branding to evolve. As the business continues to grow our loyal customer base is also expanding, and we feel that the new refined and classic style of branding perfectly embodies the spirit of Created By Magic and our high-quality designs.
The new simple logo design still reflects our original logo; however, the new classic feel can be scaled easily to suit our growing and evolving brand. With a contemporary, classic font, the new logo will truly stand the test of time, and we believe that it adds to the luxurious feel which our treasured prints deserve.
A brand update requires more than a simple logo design, and our team have carefully chosen our new colour palette which matches the products we sell perfectly. Our popular watercolour style prints are perfectly reflected in our subtle brand colours, with the beautiful tones adding a feeling of warmth to our website and social media pages.
This soft palette allows the colours within our designs to really stand out, after all, it should be our products which really capture your attention. Although we hope that the colour palette we have chosen will be around for some time yet, the simplicity of the new logo will allow us to adapt our branding to complement our changing designs.
We may look a little different, but branding is about more than a simple logo, it is the feeling which encompasses our values, our style, and our creativity.  So, please do not be surprised when you see the new logo and branding. Although we may look a little different, we hope that you will find everything we offer reassuringly similar.
A growing and evolving brand
We are so pleased that the Created By Magic community has followed us on our journey, and as we add new designs to our product range we know that our loyal customers will always be here to support us. Although wedding stationery is our primary focus at the moment, we know just how important our traditional designs are for the Created By Magic community.
We promise that our original designs will always be available, and we have some great designs on their way to you soon. With Christmas fast approaching, we will soon be bringing back our Santa letter, which will have the same traditional feel your little ones know and love. As always, our brand philosophy is deeply entrenched in providing quality and personalisation, and we are committed to ensuring their every order reflects the hard work and skills of our professional team.
It is very important to us that we are able to connect with our customers, and our goal is always to create artwork which is truly special. The Created By Magic colour palette and our logo may have changed, but our unique artistic style and passion for personalised printing has not, and we would like to thank every single customer which has supported us from day one.
A business built on the loyalty of our customers
We would like to take this chance to reassure our valued customers that the team you know and trust with your orders is still just as committed to 'Creating by Magic' your works of art. We are still the Created By Magic business you know and love, just with a little more refinement. As we continue to offer our growing range of personalised prints, digital portraits, and wedding stationery, we hope you will join us on our journey as we strive to create a little bit of magic for every customer.
If you would like to find out more about our exciting plans for the future, or to discuss a bespoke order, please contact our friendly team today and we will always be more than happy to help.