Are you gearing up for the big day and wondering when to send out your wedding invitations in the UK? We've got you covered with all the answers you need to ensure your wedding planning goes off without a hitch. From save the dates to postage tips, here's your comprehensive guide to getting those invitations out in style.
When Should You Send Wedding Invitations?
The timing of sending out wedding invitations in the UK depends on whether you've already sent save the dates or not. Let's break it down:
No Save the Dates Sent
If you haven't sent save the dates, you should aim to dispatch your wedding invitations approximately four to six months before your wedding date. This timeline allows your guests ample time to mark their calendars, make travel arrangements, and RSVP.
Save the Dates Have Been Sent
If you've already delighted your guests with save the dates, you can wait a bit longer before sending out your wedding invitations. Plan to send them at least eight weeks before your wedding date. For guests who need to travel to your wedding, it's a good idea to send invites even earlier, allowing them to book leave, accommodation, and transportation comfortably.
A Wedding Stationery Timeline
To keep your wedding stationery on track, consider this handy timeline:
10-12 months before: Start building your free wedding website to keep guests informed.
8-10 months before: Finalise your guest list, gather addresses, and send out save the dates.
4-6 months before: Order your beautiful wedding invitations (don't forget to include those all-important RSVPs!).
2-3 months before: Send out your wedding invitations and secure your on-the-day stationery items, such as menu cards and the wedding guest book.
6-7 weeks before: Place orders for your order of service, place cards, and rehearsal dinner invites (if applicable).
1 month after: Order and send your heartfelt thank you cards to show your appreciation.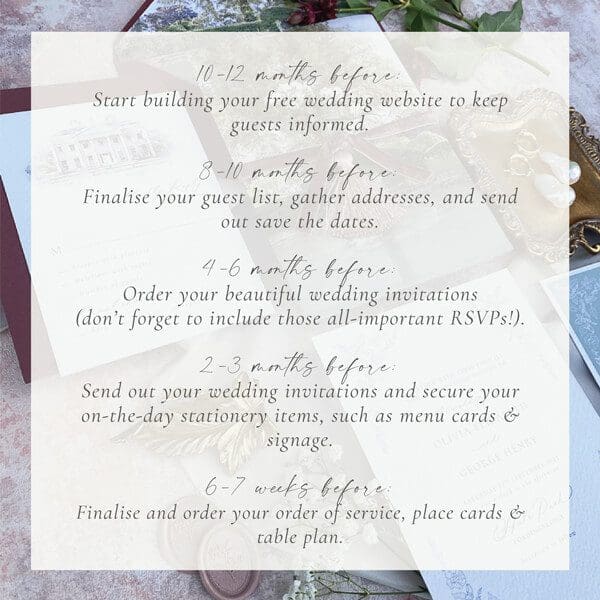 Pro Tips Before Sending Your Invitations
Before you send off your beautiful wedding invitations, consider these tips to ensure everything goes smoothly:
Weigh and Size Invitations: Assemble one complete invitation with all enclosures and take it to the post office for weighing and sizing. This ensures you know the correct postage for each invitation.
Wax Seals: While the Royal Mail accepts wax seals, there's a risk they might break in transit. Consider placing wax-sealed invitations inside another envelope for added protection.
Cost-Effective Options: To reduce costs, consider using second-class stamps, but keep in mind the longer delivery time. Opt for smaller, simpler designs if they don't require large letters. Think about using online RSVPs and FAQs on your wedding website instead of response cards and information inserts.
When Should You Send Save the Dates?
Save the dates are a crucial part of wedding planning, helping your guests mark their calendars and make necessary arrangements. In the UK, save the dates are typically sent out six to 12 months before your wedding day. Sending them closer to the one-year mark gives your guests plenty of time to prepare and prioritise your big day.
If you're concerned about scheduling conflicts with other weddings, don't feel guilty about sending save the dates early. This ensures your friends and family have your wedding firmly in their plans.
Remember, save the dates should only go to guests invited to your entire wedding day. Avoid sending them to guests who are only attending the evening reception to avoid confusion.
With this comprehensive guide, you're well on your way to perfect wedding invitation timing. Keep these tips in mind, and your invitations will set the stage for a beautiful and stress-free wedding day in the UK.