Funeral Order of Service
A funeral service is a deeply personal occasion, where each individual's unique life and journey are honoured and celebrated. We understand that during this challenging time, you may have specific requirements and desires for creating a meaningful tribute. That's why we are here to guide you through the process of designing a heartfelt and personalised funeral order of service booklet.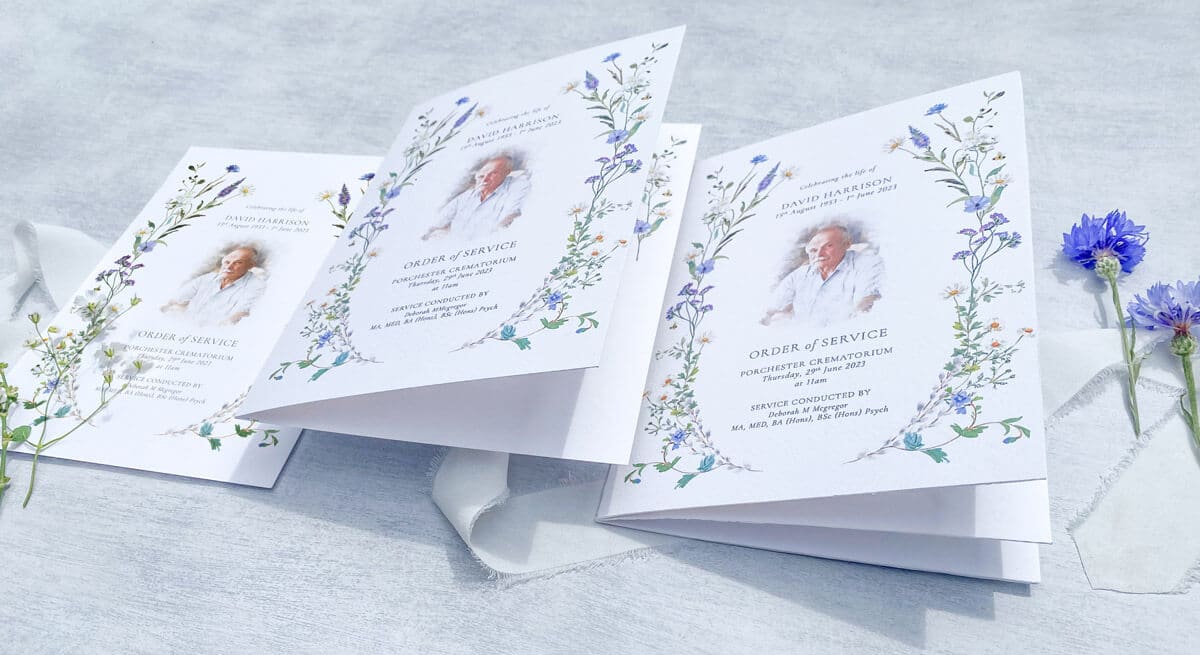 Order of service formats
We offer three options for our Funeral Order of Service booklets to cater to your unique needs and budget.
Our 2-page cards provide a concise yet informative design, perfect for including key details while maintaining an elegant simplicity.
For more content, our 4-page folded booklets offer approximately 600 words of space, allowing you to include biographies, readings, and song lyrics.
If you require even more room, our 8-page saddle-stitched booklets provide approximately 800 words of space, accommodating longer readings and special notes.
What to include in a funeral order of service?
Cover Page: Start with a dignified cover design that includes the deceased's name, date of birth, and date of passing. You may also add a meaningful photo or a symbol that represents their life.
Welcome Message: Begin the booklet with a warm and sincere welcome message. Express your condolences to the family and acknowledge the significance of gathering to honor and celebrate the life of their loved one.
Order of Service: Provide a clear outline of the order of events during the funeral service. Include the timing and sequence of each element, such as readings, prayers, music, eulogies, and any other rituals or customs that will take place.
Personalized Tribute: Dedicate a section to a heartfelt tribute to the deceased. Share a brief biography, highlighting important milestones, achievements, and cherished memories. This can be written by a family member or close friend who can eloquently capture the essence of the person's life.
Readings and Prayers: List any readings or prayers that will be shared during the service. Include the titles and authors of poems, scriptures, or other meaningful passages, as well as the names of the individuals who will be reading them.
Hymns and Songs: Mention the titles of hymns, spiritual songs, or other music pieces that will be performed or played during the service. Include the lyrics if appropriate, to encourage participation and reflection from attendees.
Eulogies and Remembrances: If there will be eulogies or personal remembrances, provide a schedule or list of speakers along with their names and a brief introduction. This allows attendees to anticipate each tribute and gives speakers the recognition they deserve.
Photo Collage: Create a visually appealing collage of photographs showcasing the life and memorable moments of the deceased. This collage can be placed at a prominent location in the booklet, allowing attendees to reminisce and share in the memories.
Funeral Service Details: Include practical information such as the location, date, and time of the funeral service. If there are any specific instructions or requests regarding attire, parking, or donations, kindly mention them in a separate section.
Acknowledgments: Express gratitude to those who provided support and assistance during this challenging time. Acknowledge the efforts of family, friends, clergy, and any other individuals or organizations that played a significant role in organizing the funeral service.
Closing Message: Conclude the booklet with a heartfelt closing message that offers comfort, solace, and encouragement to the bereaved. You can include a meaningful quote or a brief prayer to provide a sense of peace and hope.
Remember to proofread the booklet thoroughly to ensure accuracy and clarity. It may also be helpful to seek input from family members or close friends to ensure that all important aspects and details are included.
I hope this guide helps you create a meaningful and comprehensive funeral order of service booklet. If you have any further questions or need additional assistance, please don't hesitate to ask.
Our funeral order of service booklets provide a comprehensive schedule of the ceremony, ensuring that all attendees are aware of the sequence of events. Whether you choose to distribute them to mourners as they arrive or send them to those who cannot attend, these booklets serve as a thoughtful way to include everyone in the commemoration of your loved one's life.
In crafting these booklets, we recognise the importance of capturing the essence of your loved one's journey. They can include hymns, songs, poems, readings, and even cherished photographs, making each booklet a unique and treasured keepsake. We believe that by personalising every detail, we can help you create a lasting memory that will resonate with you, your family, and friends who came to say their final goodbyes.
Our experienced team is dedicated to understanding your wishes and providing a professional and accommodating service. We offer a range of options and can help you navigate the process with sensitivity and compassion. From the design and layout to the selection of meaningful content, we will ensure that your funeral order of service booklet truly reflects the life and spirit of your loved one.
At this difficult time, we aim to offer you reassurance and support. Our knowledgeable staff is available to address any questions or concerns you may have. We understand the significance of this moment and will work promptly and diligently to provide you with a clear and expressive funeral order of service booklet that surpasses your expectations.
Honouring a life well-lived requires attention to detail, compassion, and creativity. Let us help you commemorate your loved one in a way that is as unique and exceptional as they were. Together, we will create a funeral order of service booklet that becomes a cherished memory to keep forever.