Planning a bohemian style wedding can be an exciting and creative process. Bohemian style weddings have become increasingly popular in recent years, with their relaxed and free-spirited vibe. Hampshire has an array of talented wedding suppliers who can help you bring your bohemian wedding dreams to life.
Here are some of the best Hampshire-based wedding suppliers who can make your bohemian wedding dreams come true.
House of Boemia
Winchester-based wedding dress shop
House of Boemia is a Winchester-based wedding dress shop that offers a range of bohemian-inspired gowns. Their collection is perfect for brides who want to achieve that effortless, bohemian look. From flowing skirts to lace details, their dresses are designed to make you feel like a free-spirited goddess on your wedding day. Their model Kayleigh, who rocked one of their bohemian gowns, can attest to that.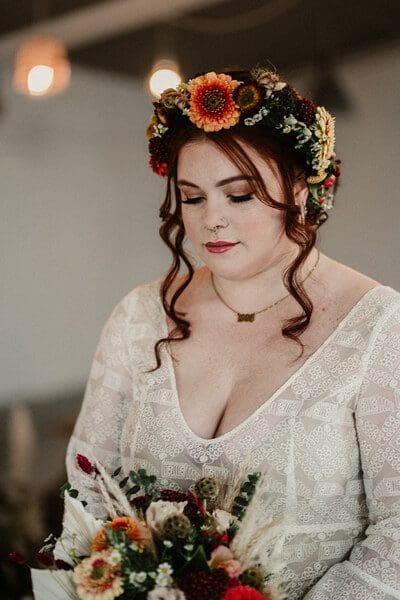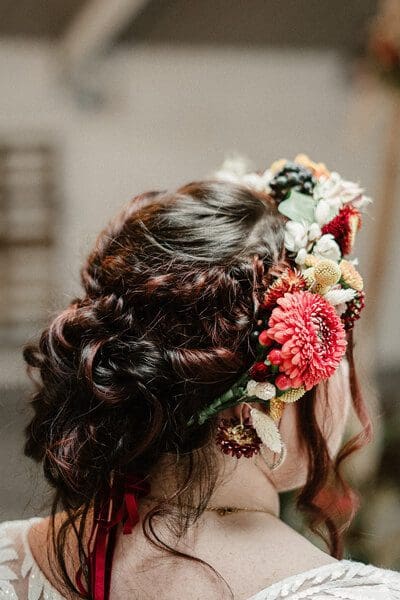 Styles Beauty Studio
Chandlers Ford and Eastleigh-based wedding hair stylist
Styles Beauty Studio is a hair and beauty salon based in Chandlers Ford and Eastleigh. Their team of talented hair stylists can help you achieve the bohemian hairstyle of your dreams. Whether you want loose, beachy waves or a braided up-do, they can create a look that complements your dress and personal style.
The Dotti Cake Company
Southampton based cake shop
No bohemian wedding is complete without a stunning wedding cake. The Dotti Cake Company is a Southampton-based cake company that can create a beautiful cake that complements your bohemian wedding theme. From rustic naked cakes to floral-covered masterpieces, their cakes taste as good as they look.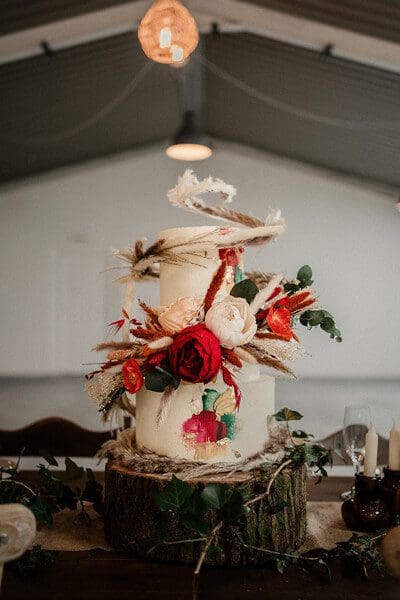 Created by Magic
Whiteley based wedding stationer
If you're looking for unique and creative wedding invitations, Created by Magic is the perfect choice. I'm based in Whiteley, Fareham, and my custom designs are inspired by nature and bohemian style. My bespoke invitations are perfect for couples who want to set the tone for their bohemian-inspired wedding.
I specialise in creating beautiful wedding invitations that are tailor-made to your individual style and taste. I work closely with each couple to create a design that perfectly captures the essence of their wedding day. My designs are inspired by nature, using earthy tones like terracotta, burgundy, and golds to create a bohemian feel.
Bridal Beauty by Orla
Waterlooville, Portsmouth based makeup artist
When it comes to looking your best on your wedding day, Bridal Beauty by Orla has got you covered. Orla is a Waterlooville, Havant, Fareham, Portsmouth-based hair and makeup artist who specializes in creating stunning bridal looks. Her bohemian-inspired styles are perfect for brides who want a natural and effortless look on their wedding day.
Orla uses high-quality products to create a flawless base that will last throughout the day. She also offers hair styling services, including loose waves and braids, that will perfectly complement your bohemian wedding theme. Her experience and expertise ensure that you will look and feel your best on your special day.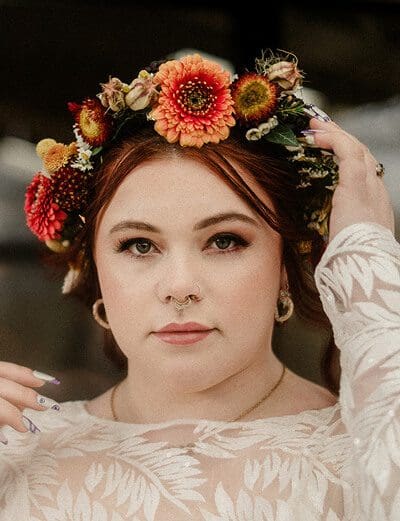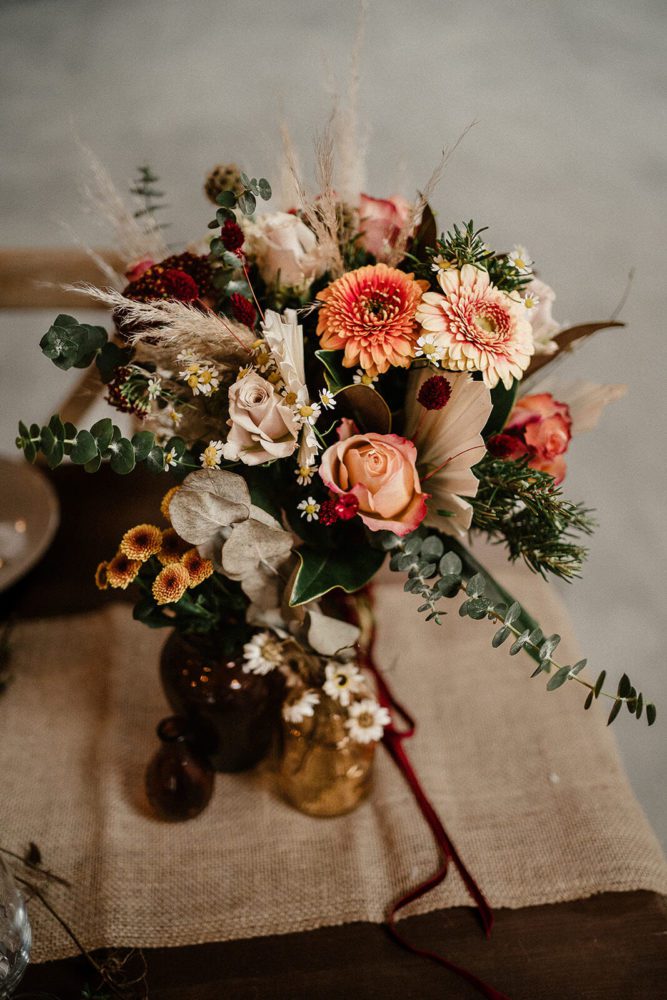 Lily and Bee Florist
Southwick and waterlooville based florist
Flowers are an essential element of any bohemian wedding. Lily and Bee is a Southwick and Waterlooville-based florist who can create stunning floral arrangements for your big day. From whimsical bouquets to rustic centrepieces, their designs are perfect for achieving that bohemian aesthetic.
Katherine and her camera
Hampshire based photographer
Capturing your bohemian wedding memories is essential, and Katherine and her Camera is a Hampshire-based photographer who can help you do just that. Her portfolio showcases her natural and relaxed photography style, which is perfect for capturing those candid moments that make your wedding day so special.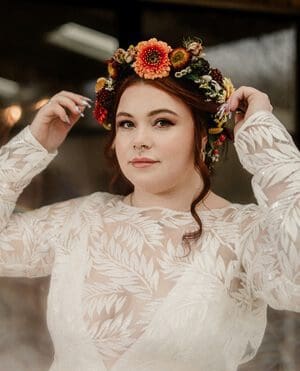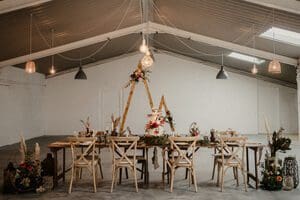 The Barn at Avington
Wedding Venue in Hampshire
The Barn at Avington is a beautiful wedding venue located near Winchester. This rustic venue is perfect for couples who want a relaxed and informal wedding setting. With its exposed brick walls and wooden beams, it's the ideal location for a bohemian-inspired wedding.
What is a bohemian style wedding?
A bohemian style wedding is a celebration that embraces free-spirited, artistic, and unconventional elements. It is characterized by a relaxed and natural atmosphere, with a focus on earthy tones, organic textures, and whimsical details. Bohemian brides often choose flowy dresses with delicate lace and intricate embroidery, and accessorise with floral crowns, barefoot sandals, or vintage jewelery. The décor typically features elements such as macramé, dreamcatchers, candles, and wildflowers, creating a rustic yet romantic ambiance. Bohemian weddings are all about expressing your personality and individuality, and creating a day that is both beautiful and meaningful.
What is a styled wedding shoot?
A styled wedding shoot is a collaborative effort between wedding industry professionals, such as photographers, event planners, florists, and makeup artists, to create a simulated wedding scene for the purpose of showcasing their skills and promoting their services. The goal of a styled shoot is to create a visually stunning and cohesive concept that highlights the latest wedding trends and inspires couples to envision their own dream wedding.
The team involved in a styled shoot will work together to create a cohesive design, selecting elements such as the venue, floral arrangements, table settings, and attire that fit within the chosen theme or style. The result is a beautifully curated set of images that showcase the creative vision of the team and demonstrate their ability to deliver an unforgettable wedding experience.